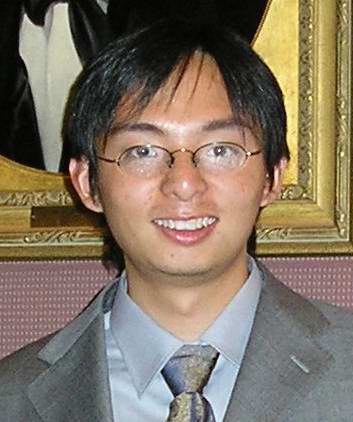 Yao Zhao
2133 Sheridan Road, Room 2-207
Computer Science Department
Robert R. McCormick School of Engineering and Applied Science
Northwestern University
Evanston, IL 60201-3150

Phone: (847) 467-6341



Mail: Tech Inst. Room L359, 2145 Sheridan Road, Evanston, IL 60208-3118


| Publications | Projects | Teaching | Working Experience | Resume |
---
Conference Papers
Journal Articles
Yao Zhao, Yan Chen, and David Bindel, Towards Unbiased End-to-End Network Diagnosis, to appear in IEEE/ACM Transactions on Networking, 2009

Yao Zhao and Yan Chen, FAD and SPA: A Suite of Schemes for User-level Network Diagnosis without Infrastructure, in the Journal of Computer Networks, Volume 53, Issue 9, Pages 1303-1318, June 2009.

Yao Zhao, Yan Chen, Bo Li, and Qian Zhang, Hop ID: A Virtual Coordinate based Routing for Sparse Mobile Ad Hoc Networks, in IEEE Transaction on Mobile Computing, Vol. 6, No. 9, pp. 1075-1089, September, 2007.

Book
Leiming Xu, Bo Pang, Yao Zhao, "NS and Network Simulation", POSTS & TELECOM PRESS, China, 2003

Yao Zhao and Yan Chen, Algebraic Approaches for Scalable End-to-End Monitoring and Diagnosis, invited book chapter for "Algorithms for Next Generation Network Architecture", Springer, 2009 (to appear)
---
---
---
Microsoft Research Redmond, Internship (03/09-06/09), Worked on p2p based multi-party video conferencing

Microsoft Research Silicon Valley, Internship (06/07-08/07, 01/08-02/08), Worked on email spamming and botnet detection

Oracle R&D Department, Beijing, China, Software engineer (02/04-07/04), Worked on "Ultrasearch of Oracle Collaboration Suite"

Wireless & Network Group, Microsoft Research Asia, Internship (08/03-03/04), Worked on scalable routing in mobile ad-hoc network

Sohu Company, Beijing, China, Part time, Software engineer, (07/00-12/00), Worked on development of Online Java Network Games
---
Sep. 2004 to Present, Ph.D student in Electrical Engineering and Computer Science department of Northwestern University

Sep. 2001 to Jan. 2004, Tsinghua University, Beijing
MEng in Dept. of Computer Science and Technology, Tsinghua University, P.R.China

Sep. 1997 to Jul. 2001, Tsinghua University, Beijing
BEng Degree in Dept. of Computer Science and Technology, Tsinghua University, P.R.China

---
Last modified: Dec. 22, 2008